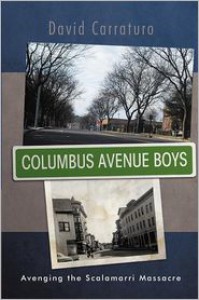 I was hesitant to pick up this book because I'm not always interested in crime family novels. The last book that I read that tried to be a crime family novel was Promise Me Eternity by Ian Fox. We all know how much I liked that book ...
But, I'm glad that I read Columbus Avenue Boys by David Carraturo. The characters were completely engaging. I found myself charmed by their quirks and personalities. I especially love Vincent's story and the dynamic between Tony and Sal.
My only wish was that it was about three times as long. This is one of those books that would benefit from being 700+ pages. Family sagas, in my opinion, need to be that long in order for readers to savor each generation's story line. If it were mine to do over again (and it's not, I know), I would have chosen to really devote time to the flashback moments in the book. Those were the parts that I loved the most and were the least well done. As I was reading, I said multiple times, "Show me! Don't tell me!" especially during Vincent's time in the military and his time driving for a crime member as he plots Bugsy Siegel's murder. As much as I thought Tony and Sal were funny guys, it was hard for me to really invest myself in their story because I didn't have a really solid foundation of their family history.
I wanted to dislike the book because the author kept telling me things he should have shown me. But there's just something about this family and these characters that kept me coming back for me. I NEEDED to know what happened. I NEEDED to know whether Tony and Sal's cover would be blown. I NEEDED to know if their revenge was carried through.
I recommend Columbus Avenue Boys by David Carraturo for those of you who enjoy reading crime family novels. I think you'll be charmed by the Scalamarri family. I know I was. Though it may not be as detailed as it should be, I still think Carraturo tells a great story that deserves to be read.